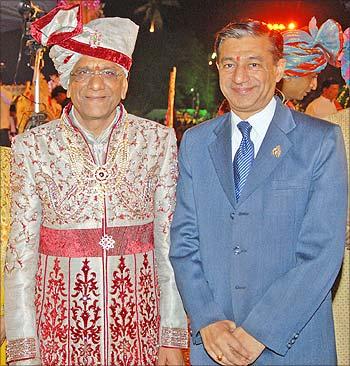 Congress president Sonia Gandhi may advocate austerity in these tough times but not everyone shares her enthusiasm for tightening the belt, it seems.
Certainly not Ashwini Kumar, director of the Central Bureau of Investigation, who was flown in a chartered flight to Surat for the November 29 wedding of Shreyansh Govind Dholakia.
The Dholakias are well-known diamond brokers from Surat with offices all over the world. The pater familias, Govind Dholakia, showed off his clout when he got Gujarat Chief Minister Narendra Modi and former chief minister Keshubhai Patel and assorted Bollywood heroines to attend his son's lavish wedding.
Ashwini Kumar and wife were flown down for the nuptials, as were many others in the spare-no-expense exercise that still has Surat raving about it. Especially the Rs 1 crore car bedecked with diamonds and other precious that the bridegroom, Shreyansh, was driven to the wedding hall in.
For the recession-hit diamontaires, the wedding obviously helped lift the gloom.
Image: CBI director Ashwini Kumar with Govind Dholakia