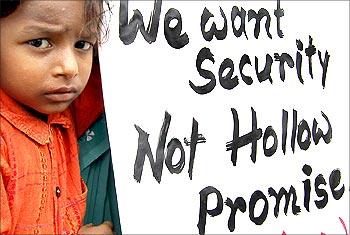 The handful of United Liberation Front of Asom supporters, who raised slogans in support of Arabindo Rajkhowa when he was produced in court, and the anger of the outfit's chairman at being handcuffed, cuts little ice with the common people of the state.
"Rajkhowa said he will not participate in talks in handcuffs. Hasn't he realised that he is no special person in the eyes of the law? After engineering the killing of thousands of people for 30 years, does he expect to be brought back with gold bangles and a garland?" asked college lecturer Farooq Ahmed of Barpeta district sarcastically.
He said, "If Rajkhowa wants to negotiate with the government for peace, the handcuffs can be taken off any time," he said.
Madhurima Hazarika, a college student of Nagaon district said, "When only a handful of their supporters shout slogans in favour of Rajkhowa, they think that the people of Assam are still with them."
Pointing out that with Rajkhowa's arrest most of its top leaders were now behind bars, she said, "It's time they realise and hear the actual voice of the state's 2.6 crore population who oppose the ULFA. The leaders should introspect instead of beating an empty drum that people are with them."
Young entrepreneur Hemanta Deka of Guwahati spoke about extortion by the ULFA. "Whenever we business people do well, the ULFA extortionists arrive at our doorsteps and harass us to part with our hard-earned money for weapons and their pleasure. This is not acceptable," Deka said.
"Young people like us are very happy with the arrest of Rajkhowa and the others. Peace will now return to Assam. The ULFA is now finished. The mindless violence will end," he added.
Retired government officer Dijen Kakoti of Dibrugarh district said that ULFA had promised to create a 'golden Assam' 30 years ago through armed revolution.
"But what did they do? The very people to whom they made promises were killed in bomb blasts," he said.
"The ULFA rendered thousands of their own people homeless by destroying families ... children were orphaned. School children were killed. Did they deserve this?" he asked bluntly.
Similar sentiments were expressed by 72-year-old agriculturist Jiten Kalita of Nalbari district."The ULFA told us they will help to improve the economic condition of farmers. After 30 years we still continue to remain poor, while ULFA leaders have fattened on extorted money," Kalita said.
"We hear that ULFA leaders, including Rajkhowa, have huge business empires in Bangladesh and educate their children in USA, UK and other countries. We don't need such leaders," he added.
Housewife and mother of two, Hemalata Barman of Kamrup district, spoke about the scarring of young minds by gory visuals on television after bomb blasts.
"They are afraid to go to school and worry about their father returning home safely. I feel very sad then," she said.
Seventeen-year-old school students Maina Barua and Kanaklata Handique of Dhemaji district said that memory was still fresh in their minds of 17 schoolchildren and women being killed in the district on Independence day in 2004.
"Though we were about 12 years old then, we remember seeing the visuals on TV of children like us killed. They were not involved in ULFA's fight for their demands. What was their fault?" they asked.
"Speaking on behalf of children in Assam and as the future of the state, we want an end to violence," they added.
Image: A girl attends a protest in Guwahati against alleged ULFA atrocities
Photograph: Utpal Baruah / Reuters