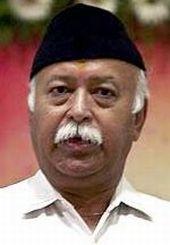 Seventeen years after the Babri Masjid was pulled down, Rashtriya Swayamsevak Sangh chief Mohan Bhagwat on Saturday said there was no question for the Sangh to regret for what had happened and maintained that their full support to the "Ram temple movement" would continue.
Addressing a meet-the-press programme in Chandigarh, Bhagwat said the pulling down of the structure was not any conspiracy, but a spontaneous reaction from the Kar Sewaks "whose sentiments and emotions had been hurt".
"Whatever happened was connected with the movement for the construction of the Ram temple. The sentiments of the Kar Sewaks were hurt that also included many Muslims. So the question for the RSS to regret does not arise," he said.
Without naming any one he said, "Afsos jinko karma chahiye woh karein" (those who ought to regret, should do so).
When asked to name any prominent Muslim leader who participated in the 'Kar Sewa' on December 6, the day when the Mosque was brought down, Bhagwat said, "There were many Muslims. Prominent names that I can remember include (senior Bharatiya Janata Party leader) Mukhtar Abbas Naqvi and another leader from Mumbai Muzaffar Hussain."
He stressed that the Sangh's full support to the Ram temple movement, which was being run by Sant Mahatama religious leaders, will continue as it had extended its support in the past. "The Sangh works as per their direction," he added.
"Whether Ram temple will be built with the support of the government or through any court directive or by change of heart (consensus among different sections of people), but we are committed to this (the movement for its construction)," he said.
He said in fact after the 1992 Babri Masjid demolition the interaction of the Sangh with other communities, including the Muslims and the Christians increased.
"Our intentions are clear. We have no enemity with any community," Bhagwat said, adding that the Sangh has not been properly understood by the people.
"To understand the Sangh one has to come in its fold for a couple of years. The taste of sugar is felt only after eating it," he said.
Bhagwat said that propaganda against the Sangh is also creating misconceptions about the organisation. "Now the misconceptions about the Sangh are being removed," he said adding that his media interaction, the first meet-the-Press programme by any RSS Sanchalak was also a step in the direction of clearing the misconceptions.
Image: Rashtriya Swayamsevak Sangh chief Mohan Bhagwat