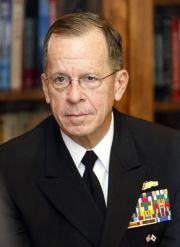 Voicing deep concern over "great synergy" among terror groups, top US military commander Mike Mullen has said that the Pakistan-based Lashkar-e-Tayiba, which "fostered" Mumbai attacks, is associated with the Al Qaeda and the Taliban, and asserted India has a role to play in bringing stability to the region.
"Probably the biggest concern I have is the collaboration going on amongst the terrorists, amongst the groups. A few years ago, they didn't even talk to each other. They didn't even like each other," Mullen, chairman of the joint chief of staff, told the popular Charlie Rose Show of the PBS.
"I see that in that border area, I see it in the Pakistan. I see associations of the LeT, which is the group that fostered the attacks on Mumbai in India from Pakistan. I see their association with the Al Qaeda. I see them operating out of the country, not just into India," Mullen said.
"These various Taliban groups are associating with the Al Qaeda in ways that just had not happened before," he said.
"There's the Taliban who are actually in Pakistan and threatening Pakistan -- this TTP (Tehrik-e-Taliban Pakistan) group. There's the Taliban who are also in Pakistan and threaten -- and this comes from mostly the Haqqani network -- that the focus on Afghanistan," he said.
But there "is great synergy and a much more symbiotic relationship between them and amongst all of them," including the Al Qaeda, Mullen said.
"And that's the centre. I had a senior administration official from India say what you don't understand is this (Pakistan) is the epicentre of terrorism in the world."
"My belief is also that we cannot take the chance to get this wrong. The people who are living in Afghanistan from the Al Qaeda -- the same group that killed 3,000 Americans (during 9/11 attacks) -- they're still planning, they're still training they're still financing those kinds of potential attacks in the future," Mullen said.
"Now, they're diminished from where they were a few years ago, but by no means have they gone away. So that's at the core of this entire strategy. We can't do it alone. We've got 42 other countries in Afghanistan who are supportive of this, and we need to do it with Pakistan as well," Mullen said.
He said India has a role to play in bringing stability in the region.
"In March, the strategy was a regional strategy. It was Afghanistan and Pakistan.  And, in fact, the region's bigger than that, because I think India has a lot to do with stability in this part of the world -- as do other bordering states, bordering countries, if you will, to Afghanistan and Pakistan," he argued.
The ability to stabilise the region rests on the shoulders of a lot of players, certainly not just the US, Mullen said.
"It is that stable Afghanistan that I think gives an opportunity for Pakistan to change its behaviour, because its behaviour is focussed on what kind of Afghanistan is this going to be? Is it going to be a Taliban-led Afghanistan? Is it going to be a stable Afghanistan that I can depend on? And those answers aren't there yet, and I don't think they will be for a couple more years," he said.
Mullen said Pakistani army chief General Ashfaq Parvez Kayani has taken risk by moving his troops from the border to the restive northwest to fight the Al Qaeda and the Taliban.
"The Pakistani people and the Pakistani military feel that India is an existential threat. You and I might disagree with that, but they get their view that it has been their threat, and it continues to be their threat," he said.
"So he (Kayani) has taken some risks because he has moved some forces and he's moved them west. He's trained them in counter-insurgency, which is what they've got. He's seen a lot of his citizens die. He's lost a lot of his soldiers in these fights. So he's taken all this very, very seriously," Mullen said.
Image: Chairman of the US Joint Chief of Staff Mike Mullen