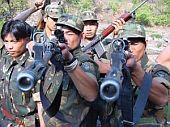 Arabinda Rajkhowa, chairman of the banned United Liberation Front of Assam who was arrested in Bangladesh on Wednesday, is one of India's most wanted fugitives.
The 53-year-old, whose real name is Rajib Rajkonwar, is one of the founder leaders of the ULFA along with commander in chief Paresh Baruah. The ULFA was formed on April 7, 1979 to lead armed struggle to 'free Assam from the clutches of colonial Indian rule'.
Hailing from Lakwa in Sivasagar district of Upper Assam, Rajkhowa has an Interpol red corner notice against him, issued on June 4, 1997 for his involvement in several heinous crimes. Out of India since 1992, Rajkhowa reportedly used to travel to Myanmar, Bhutan, Thailand, Bhutan, Pakistan and other countries on fake identity and fake passports.
Rajkhowa, the second of three sons of freedom fighter Umakanta Rajkonwar who passed away three years ago at the age of 101, studied up to class 12.

The sturdy-built ULFA chairman is trained under the Kachin Independence Army in Myanmar and the National Socialist Council of Nagaland, and is proficient in handling all types of weapons.

He is also the vice president of the Indo-Burma Revolutionary Front (IBRF). The usually reserved Rajkhowa speaks Assamese, English, Naga, Bengali, Hindi and Kachin languages.