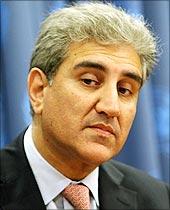 Close on the heels of President Obama's announcement of the revamped Afghan strategy, Pakistan has said that it is concerned about the negative implications of the new US policy in Afghanistan.
Interacting with media persons while accompanying Prime Minister Yousuf Raza Gilani on his maiden visit to Germany, Foreign Minister Shah Mehmood Qureshi said US Security Adviser General James Jones had called Gilani to take him into confidence on the Afghan strategy, but added that Islamabad is concerned about the massive surge in troops in the neighbour country.
"Our issue is not how you deploy them (US troops in Afghanistan) and how you use them. We are only concerned about the negative implications. The more you coordinate with military authorities of Pakistan, the better it will be," The Daily Times quoted Qureshi, as saying.
Islamabad has been continuously asking the Obama administration to consult it before finalising any new policy for Afghanistan.
It has also expressed concerns regarding the US plans of deploying more troops in Helmand province, and fears that sending more soldiers in the region would force the Taliban to flee, which would then create more trouble in the insurgency hit Balochistan.
Meanwhile, Qureshi told a British agency that Pakistan and the US did not need a joint command as far as taking action against the Taliban and the Al Qaeda is concerned.
Highlighting the need for enhanced cooperation between Islamabad and Washington, Qureshi told a British news agency that the Obama administration should consult Pakistan on its Afghan policy, failing which more trouble would be created for Islamabad.
Replying to a question, Qureshi reiterated Pakistan's demand for unmanned aircraft so that it could target extremist hideouts on its own, and maintained that the US missile strikes were proving counterproductive.
Image: Foreign Minister Shah Mehmood Qureshi