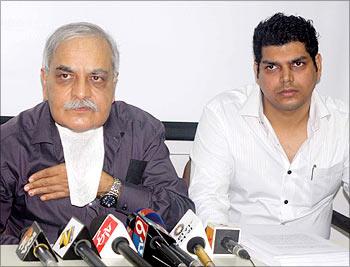 In late 2008, Deepak Kumar, a Commissioner of Customs at Mumbai Custom House, was lying in a Tata Memorial Hospital bed, recovering from surgery and lamenting lost dreams. He had always envisioned that in his later years -- aided by his resonant, booming voice -- he would become a trial lawyer. But suddenly he felt that possibility slipping away.
"I was so frustrated," he remembers. "I wanted to scream."
Problem was, he couldn't. He couldn't even speak. Kumar's larynx -- colloquially known as the voice box -- had been removed. After nearly 40 years of regularly smoking cigarettes, he had developed throat cancer, so severe that his treatment entailed two surgeries and radiation therapy, just to keep the cancer from spreading. 
Bound to that Tata Memorial Hospital bed, Kumar made a commitment to himself: if he survived his battle with cancer, he'd devote his time and energy to raising the Indian public's awareness about the dangers of tobacco.
Today, one year later, in an effort to make good on his vow, 59-year-old Kumar filed a complaint against ITC ltd before the Maharashtra Consumer Disputes Redressal Commission in Mumbai. 
"To the best of my knowledge, it's the first such complaint in India," he says.
In it, Kumar has asked for compensation of Rs 1 crore for 'severe physical damages, including the loss of his natural voice, incurred due to tobacco consumption without awareness of the dangers posed by the product'.
"More than anything, I regret smoking that first cigarette. Ultimately, it ruined my life. How many more lives must be ruined by tobacco in this country?" he asks rhetorically, aided by his prosthetic voice box, before stopping to clear his throat with water. It takes him a minute to gather himself, as what once came most naturally -- speaking in public -- has now become an exhausting chore. 
"If I had made an informed choice 40 years ago, it would be a different story. But when I began smoking, which started as just a cigarette or two during my pre-college and early college days, there were no warnings. Nothing. How could I -- or the millions of others in India who started then -- have known that cigarette smoking is more addictive than heroin? It was intentionally made glamorous, through marketing. I used to smoke Wills Navy Cut, an ITC brand. I'll never forget that advertisement campaign they ran: a beautiful young girl, a handsome young man, and between them a pack of Wills Navy Cut. The slogan? Made for each other."
Even the warnings that were added in the mid-80's were kept intentionally vague, claims Kumar. "Those old warnings on packets said 'smoking is injurious to health'. That's it. Well, a lot of things are injurious to health, including too much rice. Those so-called warnings actually hid more than they revealed."
He maintains that tobacco companies knew then and know now that: 1) smoking is very addictive and 2) has zero beneficial effects. He says that it's now the social responsibility of tobacco companies to implement a distribution method that ensures every tobacco product sold, even a single cigarette from a paan-wallah, carries an explicit text and pictorial warning about the product's addictiveness, cancer-causing properties and lack of any beneficial effects.
"It's like being sold candy," Kumar says of the way cigarettes and other tobacco products are displayed in colourful packets. "Many of us are fortunate enough to be well-educated, and thus are now able to learn about the ill effects of tobacco. But what about the common man? It is he who suffers the most. How does he know his beedi and his gutka are more addictive than opium? That they cause cancer? It is time for tobacco companies to shoulder some responsibility."
But, referencing the easy availability of alcohol in dry-state Gujarat, Kumar is quick to add that total prohibition is not the optimum solution. Instead, he claims, the government should spend all tobacco-related tax revenue on educating the public.
"Education and awareness for the people is the most important step we can take. In the United States and in Europe, they've made that investment to educate the public about the dangers of tobacco. And now, naturally, they are seeing decreasing rates of smoking. Meanwhile, India has more tobacco users than almost any country in the world, with no signs of slowing," he says. 
Tragically, after trying for the better part of two decades to quit his almost-40-cigarettes-a-day intake, Kumar finally dropped the habit completely in 2006. But it was too late. In June 2008, he began to feel hoarseness of voice, and had difficulty breathing. By August 2008, he had a diagnosis: late-stage throat cancer, necessitating surgery.
Kumar, a father of three sons, says that by nature he's an extrovert. But, given his condition, he's slowly become an introvert. Embarrassed by the hole in his throat, which was necessary to improve breathing after the two surgeries, he wears a gauze bib around his neck. "My happy days are gone forever," he mourns.
His case will be heard December 7.
Image: Deepak Kumar (left) and his son, addressing the media. Photograph: Sahir Salvi