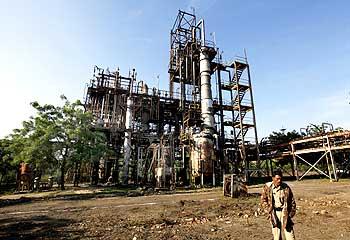 The premises of the defunct Union Carbide factory will be opened for the public from January, 25 years after the gas leak from it killed and maimed thousands of people, a senior minister said on Tuesday.
"The Union Carbide factory premises will be thrown open for the public in January. The date of opening has not been finalised yet. The state also has plans to build a Hiroshima-like memorial there depicting the detailed account of the disaster," Bhopal Gas Tragedy Relief and Rehabilitation Minister Babulal Gaur said.
However, he added that people will not be allowed to enter the factory unit which once manufactured pesticides, adding that the visitors would be able to see it from a distance.
"The Madhya Pradesh high court gave permission to open the factory premises last week, but given the code of conduct in place for the forthcoming civic elections, we have decided to open it from January," said Gaur.
The state has plans to construct a boundary wall around the factory to keep off encroachers, he added.
Gaur, a former Madhya Pradesh chief minister, said the state government has sought Rs 116 crore from the Centre to build a memorial for the victims in the factory premises, spread over an area of 67 acres.
He said that the state wants to build a memorial of international standards, akin to the one in Hiroshima in Japan, depicting the detailed account of one of the worst industrial disasters in history.
Image: A security guard in front of the Union Carbide Corp, now part of Dow Chemical Co, pesticide plant in Bhopal | Photograph: Reinhard Krause/Reuters