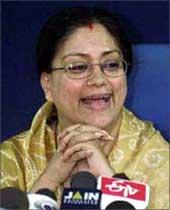 After sending conciliatory signals over the last few days, former Rajasthan chief minister Vasundhra Raje on Monday skipped a scheduled meeting with senior Bharatiya Janata Party leader M Venkaiah Naidu to discuss the stand-off in the party's state unit, citing ill-health.
Instead, Raje, who was expected to discuss her demands at the meeting before she accedes to party president Rajnath Singh's order to resign as leader of Opposition in the Rajasthan assembly, sent her son Dushyant Singh as her emissary to meet Naidu.
Dushyant, BJP Member of Parliament from Jhalawar, spent over an hour with Naidu and is said to have put forth Raje's demands. Raje is understood to have conveyed the message that she was not well and would not be able to attend the crucial meeting. However, sources close to Raje, who arrived in New Delhi on Sunday night, said she is likely to stay put in Delhi for a couple of days.
She is likely to meet Naidu once some progress is made to end the stalemate, they said. BJP sources said Raje wants the next leader of Opposition in the state assembly to be from her camp.
She has also demanded the general secretary's post in the central leadership as well as the revocation of the suspension of two of her loyal Members of Legislative Assembly. The party had asked her to resign from the post following the BJP's defeat in the Lok Sabha and assembly elections in the state.  
"Vasundharaji has a lot of experience and it would be properly utilised at the party headquarters," party spokesperson Ravi Shankar Prasad told media persons at a press conference. 
Additional inputs by PTI