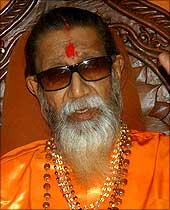 Shiv Sena chief Bal Thackeray on Monday took a dig at senior Bharatiya Janata Party leader L K Advani, saying that an 'iron man' like him must be hurt that people have accepted Dr Manmohan Singh, whom he had termed as a 'weak' prime minister during the campaign for the Lok Sabha polls.
"Till yesterday, you were prime ministerial candidate and you were referring to Manmohan Singh as a weak prime minister. But people rejected an 'iron man' like you and accepted a 'weak' prime minister like Manmohan Singh, so you must be feeling hurt," he said in an editorial in party mouthpiece 'Saamana'.
He said he was concerned over the state of affairs in the BJP but dismissed reports that the Sena, taking advantage of its coalition partner's crisis, will demand that its candidates should be given tickets for 200 of the 288 seats in the forthcoming assembly polls in Maharashtra.
In the last assembly polls, the Sena had contested 171 seats and the BJP contested 117 seats. "The way news emanates on a daily basis regarding that party, there is an atmosphere of concern. Rivals are saying that the BJP has become like the dead parrot in the Akbar-Birbal tale, but we don't think so," he said.
"I have no doubt that the parrot will soar in the sky again," he said, adding, "The parrot may not be dead but its movements have slowed down. It doesn't eat, its eyes are closed. It is a matter of concern."
Thackeray said that after the Lok Sabha polls, "Advani felt he should retire gracefully but his colleagues did not let him do so and this we read in newspapers".
The Sena supremo also indicated that there was not much communication between BJP leaders in New Delhi and the Sena.
"During (former prime minister Atal Bihari) Vajpayee's time and when (late BJP leader) Pramod Mahajan was around, it was different. There was talk, at least on telephone," he said.
Thackeray expressed confidence that the 'dead parrot' will rise again and fly with the 'eagle' of Shiv Sena.