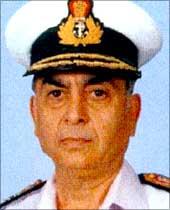 Outgoing Navy chief Admiral Sureesh Mehta on Monday alleged that Pakistan's attempt to modify the Harpoon missile posed a danger to India's interests.  As per media reports, the Barack Obama administration has lodged a protest with the Pakistan government for illegally modifying United States-made missiles to expand its ability to hit land-based targets.
Citing senior administration and Congressional officials, the reports said the charge came in late June, through an unpublicised diplomatic protest to Prime Minister Yusuf Raza Gilani and other top Pakistani officials.  The accusation, made amid growing concerns about Pakistan's increasingly rapid conventional and nuclear weapons development, triggered a new round of US-Pakistani tensions, the report added. 
Reacting to the report, Mehta said that US authorities are constantly being told that their aid to Pakistan is not necessarily used for self-defence.  "We have been mentioning to Americans at all times that what you give them (Pakistan) will not necessarily be targeted for self defence. And this in any case has got nothing to do with self-defence; it is obviously against Indian interest," Mehta added. 
A senior Pakistani official called the accusation 'incorrect', claiming that the missile tested was developed by Pakistan, just as it had modified North Korean designs to build a range of land-based missiles that could strike India, according to the Times. 
US officials said the disputed weapon is a conventional one based on the Harpoon anti-ship missiles that were sold to Pakistan during the Reagan administration as a defensive weapon, the newspaper reported. The charges against the Pakistan government come at a time when the Obama administration is seeking Congressional approval for 7.5 billion dollars in aid for Pakistan over the next five years. 
US military and intelligence officials suspect Pakistan of modifying the Harpoon sold to them in the 1980s, which would violate the Arms Control Export Act.  Pakistan has denied the charge and claimed that it developed the missile, the media report said. 
According to experts, the missiles would bolster Pakistan's ability to threaten India, stoking fears of heating up the arms race between the two nations.