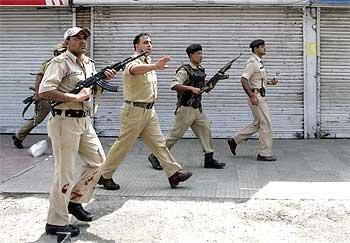 Militants struck twice in Srinagar on Monday, killing two Central Reserve Police Force (CRPF) personnel and injuring 20 others.
In the first attack, two CRPF personnel were shot at from a close range by unidentified militants, near the high-security city centre Lal Chowk today afternoon.
"The two troopers were rushed to a hospital for treatment. But they succumbed to their injuries soon after, in spite of best efforts by the doctors to revive them," said a police official.
In the second strike, a powerful grenade was tossed at a paramilitary bunker near the busy intra-Kashmir bus terminal at Batmallo, injuring 15 civilians and five security men.
All the injured victims are currently under treatment. Security forces have surrounded Batmallo to conduct searches.
Militants had struck in the heart of Srinagar on August 1, and a policeman and a CRPF trooper were killed in the attack.
This is the first militant strike in Kashmir in the holy month of Ramadan.
Image: Policemen take charge after the shootout in Lal Chowk, Srinagar | Photograph: Danish Ismail/Reuters