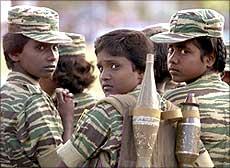 Liberation Tigers of Tamil Eelam cadres, who escaped the final assault by the Lankan army in May, could give a new lease of life to the now vanquished outfit and are even trying to launch fresh attacks in Sri Lanka, according to a report.
"There were 30,000 members back then (during the final phase of the war) in the LTTE. Not all were armed, but all were organised. The army has lots of records listing who they are," international defence website Strategy Page said in a report.
"Most of these LTTE staff survived the final campaign, and the Sri Lankan government is looking for them. These are the people who could rebuild the LTTE, and who are even now trying to carry out terror attacks," says the article also posted on Sri Lankan government's official website.
Some of these information have been gathered from new LTTE leader Selvarajah Pathmanathan who is now under the custody of Sri Lankan government.

"Pathmanathan has the information on operational details and contacts of the LTTE as well as information on money collected from expatriate Tamils which were used for the terrorist activities of the LTTE," the article said.
The 30-year-old civil war in Sri Lanka came to an end on May 18 with the death of LTTE supremo Velupillai Prabhakaran.
"Pathmanathan also has information on the organisation that only the senior leadership had. He is able to let the government know how large the organisation was in Sri Lanka before the final offensive," the article said.
It said India is much more sympathetic to the Sri Lankan government on the LTTE issue as New Delhi "knows all about fanatical sects and political movements and was also subject to LTTE terrorism."
Image: File picture of female cadres of LTTE
Photograph: Reuters