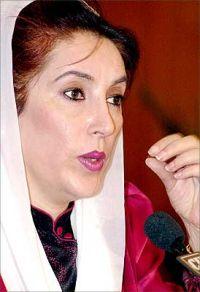 Slain Pakistan Prime Minister Benazir Bhutto had asked the Pakistan Air Force to be ready for attacking India's nuclear facilities, when reports surfaced in 1990 that United States, Israel and India were planning to strike Pakistan's nuclear establishments.
In an interview with a private television channel, former Chief of Army Staff Mirza Aslam Beg revealed that Bhutto had directed the PAF to prepare itself for attacking India.
Beg said Bhutto remained 'rock solid' amid reports that US, Israel and India were planning to attack Pakistan's nuclear sites.
"Benazir remained rock solid in 1990 amid reports of conspiracy against Pakistan," The Daily Times quoted Beg, as saying.
Beg also disclosed that the Saudis had given loads of money to Mahmood Haroon to ask politicians to join the Islami Jamhoori Ittehad, which was formed to destabilize Bhutto's government and ensure that she never returns to power.
Earlier, former Federal Investigation Agency director Malik Mumtaz had disclosed that Al Qaeda gave millions of rupees to the Inter-Services Intelligence to destabilise the Benazir Bhutto's government in 1988.
Mumtaz claimed that ISI had hatched a massive conspiracy involving former Prime Minister Nawaz Sharif, former ISI chief General (retired) Asad Durrani, Brigadier (retired) Imtiaz and Major (retired) Amir to overthrow the Bhutto government.
He said Osama bin Laden was behind the conspiracy and had paid millions of dollars to the ISI. 
Meanwhile, Pakistan Muslim League-Nawaz Senator Pervaiz Rashid has rejected Beg's allegations that ISI had distributed money among several politicians to destabilize the Bhutto government.
"Beg has given a very fake statement on the distribution of money by the ISI among politicians," Rashid said.