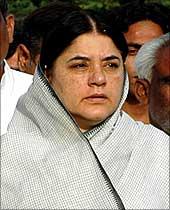 Bharatiya Janata Party Member of Parliament Maneka Gandhi created a stir on Saturday when she first came out openly in support of expelled party leader Jaswant Singh, but hastily backtracked from her stance later.
Maneka, who was visiting Budaun in Uttar Pradesh, to oversee the party's preparedness ahead of the by-election to two state assembly segments which fall under her Aonla Lok Sabha constituency, told reporters that the BJP had been unfair to Jaswant.
However, as soon as her statement was flashed across TV channels, she was contacted by top BJP leaders, including party chief Rajnath Singh. Singh reportedly advised her to exercise restraint and caution in her statements.
Maneka hurriedly convened a press conference and clarified, "The BJP leadership could have expelled Jaswant Singh but it would have been fair and appropriate if they had first read his book before taking such a decision."
Maneka adopted a cautious stance on the issue, in view of her son and newly elected BJP MP Varun Gandhi, who has already drawn flak over his alleged anti-Muslim speeches in his parliamentary constituency Pilibhit.
She declined to comment on whether the action against Jaswant was right or wrong but termed the expelled leader as a 'decent man'.