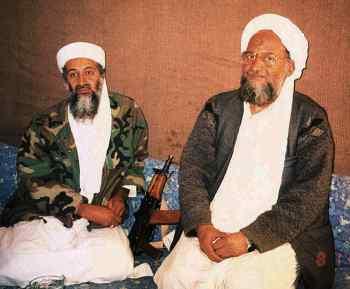 Ayman al-Zawahiri, the second-in-command in the Al Qaeda, has urged the citizens of Pakistan to join a Jihad to thwart 'America's attempts to divide Pakistan'.
Zawahiri's statement comes in the wake of Pakistani Taliban chief Baitullah Mehsud's death in an American missile strike and an intensive operation launched by the Pakistan army to flush out Taliban militants from the Swat valley.
"The war in the tribal areas and Swat is an integral part of the crusade on Muslims across the world. People of Pakistan, back the jihad and mujahideen with your persons, wealth, opinion, expertise, information and prayers and by exhorting others to help them and preach their message," the Dawn newspaper quoted Zawahiri as saying.
The video, entitled 'Path of Doom', was posted on an al-Qaeda-linked website, said the newspaper.
Zawahiri, who is one of the world's most wanted terrorists, urged Pakistanis to drive out 'American crusaders' and claimed that participating in Jihad is the only way to achieve honour.
To protest against the Pakistan government's support to United States' war on terror, Al Qaeda and Taliban militants have carried out a series of suicide attacks in the last two years, targeting government, police and army personnel. Hundreds of civilians have been killed in the deadly attacks.
Image: A file photograph of Al Qaeda chief Osama bin Laden and Ayman al-Zawahiri
Photograph: Reuters/Hamid Mir/Ausaf Newspaper for Daily Dawn