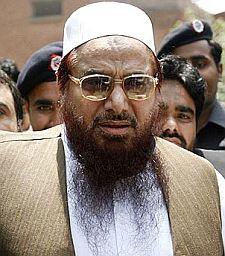 Pakistan needs to examine the evidence provided by India on the basis of which Interpol issued a Red Corner Notice against Jamaat-ud-Dawah chief Hafiz Mohammad Saeed, Pakistan Interior Minister Rehman Malik has said.
"We will examine it (the Red Corner Notice)," he said. Malik said, "Certain procedures were required to pursue" the notice. Malik was responding to a question on the Red Corner Notice issued for Saeed by Interpol at a news conference he addressed in London on Thursday.
He said Pakistan will never allow anyone to use its territory "against India or anyone else." Interpol circulated the notice for Saeed on Tuesday after a special court in Mumbai issued a non-bailable arrest warrant for the JuD chief for his alleged involvement in planning and executing the Mumbai terror attacks.
India recently handed over to Pakistan the latest dossier on the Mumbai incident that provides extensive information on Saeed's contacts with the 10 terrorists who carried out the attacks and his role in training and motivating them.
Malik said Pakistan has received this latest dossier from India but needs to examine whether "it meets the procedural requirements." He added, "We need tangible evidence which can stand the test of the court." The action taken by the Pakistan government to investigate the Mumbai attacks has been "very transparent," he said.
Five persons were arrested earlier while two more persons were apprehended later, Malik said, adding that he would provide more information about these two persons soon.
He also referred to Prime Minister Manmohan Singh's recent remarks that there is credible information that Pakistan-based terror groups might carry out fresh attacks in India and said New Delhi should share this information with Islamabad.
"Please give us some information. We want that information because we want to go to the depth (of the matter)," he said.
Noting that India had arrested several suspects well before the Mumbai attacks, Malik claimed the incident "would not have happened" if Islamabad had received information in this regard in time.
Five Lashker-e-Tayiba operatives including operations commander Zakiur Rehman Lakhvi and communications specialist Zarar Shah arrested by Pakistani authorities in connection with the Mumbai incident are currently facing trial in an anti-terrorism court in Rawalpindi.
Saeed, who is also the founder of the LeT, was placed under house arrest in December last year after the United Nations Security Council declared the JuD a terror group but was freed on the orders of the Lahore High Court in June.
Image: Chief of banned organisation Jammat-ud-Dawaah Hafiz Saeed