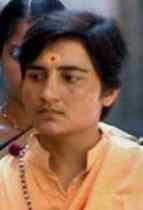 Sadhvi Pragya Singh Thakur, the main accused in the Malegaon blast case, has moved the Bombay High Court seeking bail, after her plea was rejected by the Maharashtra Control Of Organised Crime Act court. The court on Friday adjourned the hearing for two weeks as the Anti Terrorism Squad sought time to file its reply.
Earlier, the special MCOCA court had rejected her bail application. According to Thakur's lawyer, advocate Ganesh Sowani, she had been illegally detained by the Anti-Terrorism Squad initially.
"Our case is that she was picked up by the ATS on October 10, 2008, whereas their record shows the date of arrest as October 23," he said.
If she was actually taken into custody on October 10, the chargesheet should have been filed by January 9. Since it was filed ten days later, she is entitled to bail, he claimed.
Thakur and ten others are accused of masterminding and carrying out the Malegaon blasts on September 29, 2008, in which seven persons were killed.