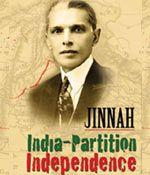 Expelled Bharatiya Janata Party leader Jaswant Singh's controversial book, Jinnah: India, Partition-Independence, which has created a furor in India, has received an overwhelming response in Pakistan.

A famous book store in Lahore sold 100 copies of the book in a single day (last Wednesday) which indicates how eager the Pakistanis are to know the reason what prompted the BJP to expel the former foreign minister and end his 30 year long association with the party. "We had received 100 copies on last Wednesday. All the copies were sold out the same day. Now we expect more copies on Saturday," said Rana Saeed., the owner of the shop. Not only intellectuals, but people from different strata of the society have also shown interest in the book, in which Singh has praised Muhammad Ali Jinnah and described him as a leader who had strong faith in united India, while blaming Sardar Patel for the partition in 1947.

"The people belonging to all walks of life city elite, officials, middle class and even students, are showing great interest in the book," Saeed said. Excited by the response the book has received, its publishers are already considering bringing out an Urdu version of the book, The Nation reports. Jaswant Singh was expected to visit Pakistan to launch the book, but his son Manvendra Singh said his father has not applied for a visa. Singh also rejected reports that there was a different Pakistan edition of the book.