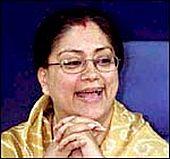 In a bid to defuse the crisis in Bharatiya Janata Party over Vasundhara Raje's continuance as Leader of Opposition in Rajasthan, the party's central leadership has summoned her to the capital on August 31 to meet senior leader M Venkaiah Naidu.
Sources close to Raje said she will meet Naidu on Monday to discuss the future course of action.
Earlier, the party high command had given her time to put in her papers till August 30 when the short session of the state assembly ends.
Naidu has been appointed as the pointsman by the high command to defuse the crisis in the Rajasthan unit of the party.
Holding Raje responsible for the party's poor performance in the state assembly elections and the Lok Sabha polls, the BJP had asked her to step down as Leader of Opposition.
However, she has put forth three demands before she acceded to the party's decision. She wants her successor as Leader of Opposition to be of her choice, revocation of the suspension order against two of her supporters and a post for herself in Delhi.
Image: Leader of opposition in Rajasthan assembly Vasundhara Raje