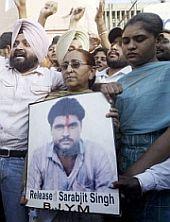 Over 100,000 Indians, including former test cricketers and chief justices, have signed a mercy petition addressed to Pakistan President Asif Ali Zardari seeking clemency for Indian prisoner Sarabjit Singh, who is on death row in a Pakistani prison.
Awais Sheikh, the counsel for Sarabjit, said he had brought back the mercy petition with more than 100,000 signatures when he returned from a recent visit to India.
"The signatories include former test cricketer Kapil Dev, Delhi's Jama Masjid Shahi Imam Syed Ahmed Bukhari, Syed Amin Hashmi of the Ajmer Sharif dargah, former Chief Justices R S Mongia and Rajindar Sachar, members of Indian human rights groups, Christian and Muslim bodies, doctors, engineers, lawyers, farmers and students," Sheikh told mediapersons in Lahore.
Sheikh said he would submit the mercy petition to the President Zardari and also apprise him about the sentiments of the Indians in this regard.
"Since Sarabjit has been in prison for long, his sentence can be commuted to life imprisonment under the law," he said. Commuting Sarabjit's sentence will help improve relations between India and Pakistan, he added.
Image: Family members of Sarabjit Singh appeal for his release in Amritsar in June, 2009
Photograph: Reuters