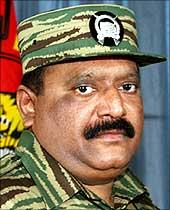 Worried that the defeat of Liberation Tigers of Tamil Elam at the hands of Sri Lankan military would crush his dream of a separate Tamil homeland, slain LTTE chief V Prabhakaran had made a last ditch attempt to escape to the jungles in the north by breaching the Sri Lankan defence lines during the final phase of the war.
This was revealed by Prabhakaran's now-detained close aide Gokulan Master, who was with the LTTE chief during the last stage of the war three months back, during interrogation.
A day before he was killed on May 18 in Wanni, the Tiger supremo attempted to escape to the Puthukudiyiruppu Jungles by breaking through the Lankan defence lines, the aide said.
"If we fail in our final plan, we will be killed by the Sri Lankan army. In such an eventuality, no one can claim an Eelam (separate homeland for Tamils) in Sri Lanka and the Eelam dream would become a nightmare," Prabhakaran was quoted as saying by Master.
"So, on the morning of May 18, the nearly 35-year-old dream of Tamil Eelam became a nightmare to us," Master told interrogators, according to the Bottom Line newspaper. When the Sri Lanka Army was about to overrun Visvamadu in the north, Prabhakaran shifted to adjoining Puthukudyiruppu, and from there he directed the fight while staying in underground bunkers set up with used containers, Master said.
The newspaper also said the LTTE had decided to increase its manpower and had began recruiting children as young as 12 years and adults over 50 years during the crucial phase of war.
"These people thus recruited were inducted into the Makkal Padai or People's Force after a very short training," it said.
Simultaneously, based on a concept put forward by senior LTTE leaders Theepan and Balraj, the LTTE built earth bunds that were 5-20 feet in height, depending on the location, it said.
"When the LTTE lost Pooneryn and Kilinochchi, Prabhakaran told Pottu Amman (LTTE's intelligence chief) that 75 per cent of his struggle for Eelam had gone downstream," Master said.
Prabhakaran said that the LTTE had to boost the sagging morale of its cadres and slow down the enemy, at least till the international community intervened on the outfit's behalf, the newspaper quoted Master as saying.
While these ideas were being discussed, Balraj was killed in a Special Forces' ambush, dealing yet another devastating blow to the Tiger outfit, according to Master.
Image: Late LTTE chief V Prabhakaran
© Copyright 2023 PTI. All rights reserved. Republication or redistribution of PTI content, including by framing or similar means, is expressly prohibited without the prior written consent.