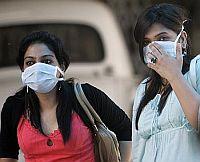 The nationwide swine flu toll climbed to 88 with a teenaged girl and two women dying due to the virus in Karnataka and Maharashtra while 177 fresh cases of infection were reported from various states.
16-year-old Sunanda Kandawal was admitted to BLD Medical College Hospital in Bijapur in Karnataka on August 24 with fever and cough but had to be shifted to Al Ameen Medical College Hospital next day since ventilator facility was not available at the BLD Hospital, health official said in Bengaluru.
The girl, who had also contracted pneumonia, died on Wednesday night, they said, adding that her swab test confirmed the virus infection. Karnataka now accounts for 20 flu deaths.
In Nashik, Purva Amol Joshi (23), who was pregnant, and Deepali Shinde (20) died on Wednesday at the Nashik Civil Hospital, A D Bhalsingh, a surgeon, said.
Both the victims were local residents. He said reports from Pune's National Institute of Virology had confirmed that they were suffering from flu.
With three deaths, the countrywide toll has risen to 88. Maharashtra now accounts for 46 fatalities -- 25 in Pune, nine in Mumbai, seven in Nashik, two in Aurangabad and one each in Dhule and Latur.
20 people have died in Karnataka, seven in Gujarat, three each in Tamil Nadu, Chhattisgarh and Delhi, two in Uttarakhand and one each in Kerala, Goa, Rajasthan and Haryana.
Meanwhile, 177 fresh swine flu cases were reported across the country taking the number of those infected with the virus to 3273, Health Ministry officials said in Delhi.
© Copyright 2020 PTI. All rights reserved. Republication or redistribution of PTI content, including by framing or similar means, is expressly prohibited without the prior written consent.