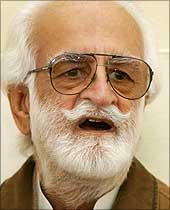 Shahzain Bugti, leader of the Balauch Jamhoori Watan party, has charged the ruling Pakistan Peoples Party-led government of "inaction" in not registering cases against former military ruler Pervez Musharraf for allegedly murdering his grandfather Nawab Akbar Bugti.
"The former dictator must be penalised for abrogating the institution as well as killing innocent civilians like Nawab Akbar Bugti," said Shahzain after emerging from a meeting with Pakistan Muslim League (Nawaz) chief Nawaz Sharif in Lahore on Wednesday.
The meeting assumes significance as the entire restive Balochistan province observed a complete shutdown on Wednesday to mark the third death anniversary of Nawab Akbar Bugti.
The Baloch leader said he had filed two cases -- on August 8, 2008 and on August 3, 2009 -- for registering Akbar Bugti's murder case against Musharraf.
"But the government was inactive," he said.
Nawab Akbar Bugti and his bodyguards were killed in a military operation allegedly ordered by the then President Pervez Musharraf on August 26, 2006.
Strongly supporting the Baloch leader, former prime minister Nawaz Sharif said it was the responsibility of the government to give Balochis their rights and immediately act in the Bugti murder case.
Shahzain Bugti's party had organised a protest march from Lahore to Dera Bugti, but called it off without giving any reason for the postponement.
Image: Slain Balochistan leader Nawab Akbar Bugti