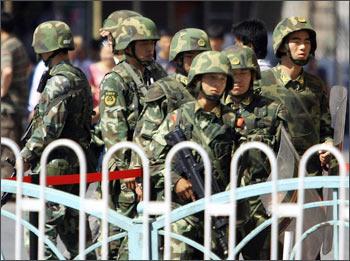 Chinese President Hu Jintao, who made his first trip to the Xinjiang Uygur autonomous region since last month''s deadly riot, has warned the separatists that they are "doomed to fail".
The July riots, which killed 197 people and injured more than 1,600, were masterminded by the "three forces" of terrorism, separatism and extremism both at home and abroad, he said.
"The separatists don''t have the people''s hearts and are doomed to fail. Their sabotage activities will not shake the stable development of reforms in Xinjiang," China Daily quoted Hu, as saying.
The president promised that more solid measures would be taken to beef up economic growth and social development in Xinjiang, and to improve the living and production conditions of the people of various ethnic groups.
Hu congratulated the armed forces, militia and police for their role in ending the riots in Urumqi, saying: "The key to our work in Xinjiang is to properly handle development and stability."
He added that the success in quelling the riot and maintaining stability in Xinjiang fully demonstrated the power of the Party and the people as well as the strength of solidarity among ethnic groups in Xinjiang.
"Neither will they (separatists) sway the Xinjiang people''s determination to build a prosperous and harmonious socialist Xinjiang," he said.
Chinese lawmakers have also passed a law which strengthens People Armed Police--a paramilitary force which is a backup for the police. The PAP have been used recently by the Chinese government to quell dissent in Tibet and Xianjing.
Image:Armed paramilitary policemen stand on duty in downtown Urumqi in Xinjiang Uighur autonomous region ahead of Chinese Premier Hu Jintao's visit.

Photograph: Reuters/China Daily