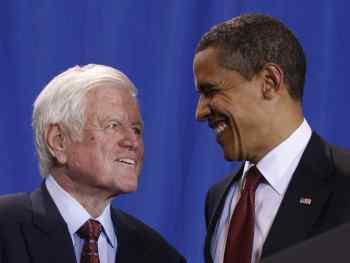 United States Senator Ted Kennedy has died after being diagnosed with a malignant brain tumour last year. The "liberal lion of the state" was 77.
In a statement, the Kennedy family said, "We've lost the irreplaceable center of our family and joyous light in our lives, but the inspiration of his faith and optimism will live on in our hearts forever."
Kennedy battled the disease all the while campaigning for Barack Obama.
Known as the "liberal lion of the Senate," Kennedy championed health care reform, working wages and equal rights in his long career.
In August, he was awarded the Presidential Medal of Freedom -- the nation's highest civilian honor -- by President Obama. His daughter, Kara Kennedy, accepted the award on his behalf.
During his nearly half century in the chamber, Senator Kennedy became known as one of Washington's most effective senators, crafting legislation by working with lawmakers and presidents of both parties, and finding unlikely allies.