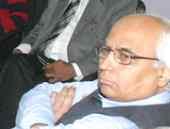 Sudheendhra Kulkarni, former political aide to senior Bharatiya Janata Party leaders Atal Bihari Vajpayee and L K Advani, has joined a key committee of the Railway Ministry.
"I joined the committee 3-4 weeks ago," Kulkarni said.
Kulkarni, who dissociated himself from the BJP on Saturday citing ideological differences, on Wednesday, said that he had joined a committee appointed by Railway Minister Mamata Banerjee.
He clarified that he was not joining any political party and would not be associated with Banerjee's Trinamool Congress.
The high level committee, headed by Federation of Indian Chambers of Commerce and Industry general secretary Amit Mitra, was constituted to "recommend to the minister innovative ways of financing and implementing railway projects for expansion and modernisation."
It would also explore ways of inviting private investment to railway through public-private partnership.