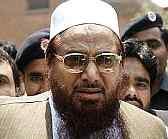 With Interpol issuing Red Corner Notice against Jamaat-ud Dawa chief Hafiz Saeed, India on Wednesday said the development vindicates its stand on his involvement in Mumbai terror attacks, and urged Pakistan to act on the basis of evidence collected 'painstakingly'.
External Affairs Minister S M Krishna said the world should take note of the Interpol notice. "Interpol has issued Red Corner Notice for Saeed's involvement. It is a vindication of the stand the government of India has taken," he told reporters while commenting on Tuesday's development.
Krishna added,"The perpetrators of the Mumbai attacks will have to be brought to justice. We have painstakingly collected evidence to convey the involvement of these persons."
To a question regarding the Interpol notice, the minister said, "I think the world should take note of these developments and then they will have to come to their own conclusions."
"India can only do this much and nothing beyond that. We have done whatever we can," he said.
Asked about Pakistan's contention so far that the evidence given by India on Saeed was not enough to prosecute him, Krishna described it as 'unfortunate'.