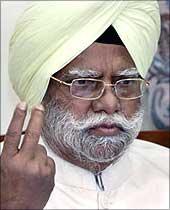 The Delhi high court on Wednesday sought a response from the Central Bureau of Investigation on a petition filed by the National Commission for Scheduled Castes Chairman Buta Singh accusing the probe agency of illegally summoning him for interrogation in an alleged bribery case involving his son.
Singh, a former Bihar governor, contended that he held a post of Cabinet rank and the CBI cannot question or interrogate him without sanction from the Centre.
"I have been issued three summons to appear before the agency on August 19, 24 and 31 without taking mandatory sanction from the Centre. I hold a Cabinet-rank post and the agency cannot summon me without taking permission from the government," said senior advocate K T S Tulsi, appearing for Singh.
Justice Geeta Mittal, after hearing his contention, issued notice to the CBI and directed it to file its response by Monday, the day when Singh has been asked to appear before the agency.
Advocate Harish Gulati, appearing for the CBI, accepted the notice and said he would verify with the agency whether sanctions were taken before summoning Singh.
Singh had approached the Delhi high court on Tuesday challenging the CBI's notice to appear before it as a witness in connection with a case of alleged bribery against his son Sarobjit Singh.
"Issuing notice by the CBI is violative of the Delhi Special Police Establishment Act which says that government sanction is required to interrogate a public servant above the rank of deputy secretary," Singh said in his petition.
Sarobjit was arrested on July 31 by the CBI for allegedly demanding a bribe of Rs 1 crore from a Nashik-based contractor to close an atrocity case against him that is pending before the Scheduled Caste Commission, which is headed by his father.
Image: NCSC Chairman Buta Singh