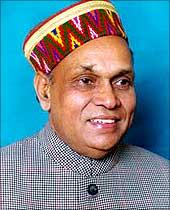 The Himachal Pradesh government has no plans of banning expelled Bharatiya Janata Party leader Jaswant Singh's controversial book on Pakistan founder Mohammad Ali Jinnah, Chief Minister Prem Kumar Dhumal said in Shimla on Tuesday.
"Thousands of books hit the stands everyday. ... Why should the state government bother about those," he told reporters. Of the six BJP ruled states, including Himachal Pradesh, only Gujarat has banned the book so far.
Desisting from making any comment on Singh's book -- 'Jinnah: India, Partition, Independence' -- which puts the onus of partition more on Jawaharlal Nehru and Sardar Vallabhai Patel than on Jinnah, he said senior leaders have already expressed the party's views on it.
Dhumal, who attended the just concluded 'chintan baithak' of the BJP in Shimla, said, the brain-storming session decided that chief ministers of all BJP-ruled states would travel to those areas where the party's presence is marginal and try to win people's support.
He rejected Congress' allegation that the state government has violated protocol by according a 'Guard of Honour' to Leader of Opposition in Lok Sabha L K Advani, on his arrival in Shimla on August 18, for the 'Chintan Baithak', saying it was a 'normal practice'.
"The Leader of Opposition enjoys the status of a cabinet minister and there is nothing wrong in honouring him," he said and charged the Congress with raking up 'non-issues' to gain media coverage and asked them to desist from making 'frivolous' charges.
He pointed out that during V P Singh's prime ministership, then Leader of Opposition Rajiv Gandhi was extended full honour when he had come to inaugurate a project in the state. Even United Progressive Chairperson Sonia Gandhi was treated like a state guest when she recently visited Shimla.