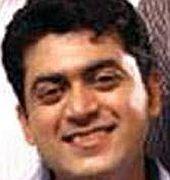 The main accused in the Paul Muthoot George murder case was arrested at Payippad in Alappuzha district, Kerala police said.
Police closed in on Kari Satheesh, suspected to have stabbed the 32-year-old executive director of Kerala-based Muthoot M George group on Saturday last, a day after it arrested 11 persons, all belonging to a gang, for their alleged involvement in the case.
According to the police, George was murdered by the gang on 'sudden provocation' following a scuffle after his car hit and injured a motorcyclist on the Alappuzha-Changanassery road.
The investigating team, headed by IGP Winson M Paul, discounted the possibility of the murder being the result of a pre-planned attack.
The gangsters, who were on their way to execute an 'operation', found George and two others -- Omprakash and Rajesh Puthenpalam -- at a deserted spot on the road.
Police said 'look out' notices had been issued to trace the other two. Paul had on Monday said that all aspects, including the role of the two gang leaders from Thiruvanathapuram, who were accompanying George when the incident occurred, were being probed.