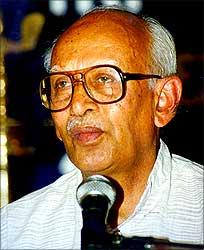 In the midst of a debate over Mohammad Ali Jinnah's role in Partition, former Rashtriya Swayamsevak Sangha chief K S Sudarshan has said that the Pakistan founder had "many facets" and that at one stage, he was with Lokmanya Tilak and was committed to a unified India.
"There were many facets to Jinnah. If you read history correctly, he was with Tilak and was committed to a unified India. If (Mahatma) Gandhi had insisted that Partition would not happen, then it wouldn't have happened," he said on Monday on being asked if the Muslim League leader was secular.
Recalling that Gandhi had started the Khilafat movement with the idea that the fight was against the British and if Muslim joined in then their support will help gain independence, Sudarshan said, "But at that time, Jinnah opposed it saying that if the Caliph in Turkey has been dethroned what has India got to do with it.
"Then nobody listened to him. This saddened him. So he quit the Congress and left for England and only returned in 1927," he said.
On Jaswant Singh's expulsion from the Bharatiya Janata Party, he said, "It is an internal matter of the party."
When pointed out that the Sangh had taken a tough stand during his leadership when L K Advani made his comments on Jinnah in Pakistan, Sudarshan said he gave clarifications on the matter later. Asked if he was satisfied with the clarification, he answered in the affirmative.
Image: Former RSS chief K S Sudarshan