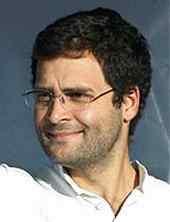 A fake driving license has been issued in the name of All India Congress Committee General Secretary Rahul Gandhi in Bihar's Sarna district, following which the state government on Tuesday ordered a probe into it.
"We have ordered an enquiry by an additional district magistrate rank officer," Saran District Magistrate Lokesh Kumar Singh said, describing it to be 'a handiwork' of some vested interests.
The license was issued in the name of the Congress leader by District Transport Officer (Saran) Punita Srivastava. However, Srivastava denied signing or issuing any such license and said, "It is a mischievous act of some vested interests aimed at tarnishing my image and the DTO's office".
Official sources said the administration had taken cognisance of the information about the issuance of the fake license.
The present address in the fake license was that of the district magistrate's residence (Chapra) while the permanent address was of Parliament Street, New Delhi. The license also mentioned late Rajiv Gandhi as the father of the license holder.
The date of birth shown in the license number 1847/09 is August 19, 1982, and it has the allegedly forged signature of the DTO (Punita Srivastava). The validity of the license is from May 18, 2009 to May 17, 2022.