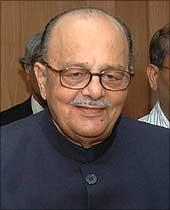 For the first time in many years, senior Congress leader and former Union minister Arjun Singh's name does not figure in the party's list of star campaigners for the September 10 by-elections to two assembly seats in Madhya Pradesh.
Singh's name may have been dropped on health grounds from the list that was submitted to the Madhya Pradesh Chief Election Officer on Monday.
Congress spokesman Arvind Malaviya said there was no need to read anything into the exclusion of Singh's name from the list, as it may have been done only on health grounds.
The list contains 38 names including those of Congress President Sonia Gandhi, Prime Minister Manmohan Singh, party General Secretaries Rahul Gandhi, Digvijay Singh and B K Hari Prasad, Union ministers Kamal Nath, Kapil Sibal, Kantilal Bhuria, Jyotiraditya Scindia, Arun Yadav and Sachin Pilot. Madhya Pradesh Congress President Suresh Pachouri and Arjun Singh's son Ajay Singh also figure in the list.
It was not necessary that all the star campaigners would visit the two assembly constituencies where by-elections would be held on September 10, Malaviya said.
He, however, added that if a person's name was listed as a star campaigner then the expenses incurred on his campaigning in a constituency are not listed along with the expenses of the candidate.
Image: Former Union Minister Arjun Singh
© Copyright 2013 PTI. All rights reserved. Republication or redistribution of PTI content, including by framing or similar means, is expressly prohibited without the prior written consent.