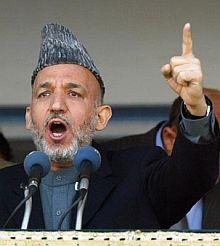 Hamid Karzai's first priority after getting re-elected as Afghanistan's president is to open peace talks with Pakistan in an attempt to end the Taliban insurgency raging across their shared border, one of his top aides has said. 
Hamed Elmi said that a new Karzai-led government would quickly reach out to Pakistan President Asif Ali Zardari to advance negotiations with Taliban fighters. 
Elmi's comments came as Mike Mullen, chairman of the US Joint Chiefs of Staff, gave a gloomy assessment of the security situation in Afghanistan, describing it as "serious and deteriorating."
The remarks by Elmi, Karzai's deputy spokesman, were the first indication since last Thursday's election of what a new Karzai administration's policy priorities might be. 
"This is the top priority. We realise that without peace, nothing is possible. Reconstruction doesn't mean anything without peace," said Elmi.
Karzai is hoping that his main presidential rival, Abdullah Abdullah, will lead the peace process, The Nation reported. 
Elmi said that this job would serve to make Abdullah more of a national leader than a cabinet post in a Karzai government, and could open the way for a future presidency.
Abdullah has pledged to serve a constructive role in opposition, if defeated at the polls. Co-operation between the neighbours is widely regarded as an essential step towards tackling the interlocking insurgency that has inflicted growing casualties on Nato forces in Afghanistan and undermined stability in nuclear-armed Pakistan. 
Relations between the two countries have improved in the past year from the lows they reached under Pervez Musharraf.  "Zardari is trying. At least we can talk in the same common language with the Pakistani government," Elmi said.  Pakistan's ruling Pakistan People's party welcomed the Karzai camp's overture.
Image: Afghanistan President Hamid Karzai