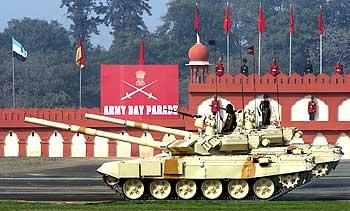 The first batch of India's indigenously built state-of-the-art T-90 main battle tanks, with features like protection from nuclear attack, were handed over to the army at a function in Avadi near Chennai on Monday. The batch of ten tanks, each costing around Rs 14-15 crore, rolled out of the Heavy Vehicles Factory (HVF), Avadi and were inducted into the army by Minister of state for Defence M M Pallam Raju.

The HVF plans to produce 100 tanks per year. Indian army has already around 700 of these frontline tanks in service and contract has been signed for purchase of another 400 off the shelf. The tanks have features like capability to fire guided missiles, in addition to the conventional ammunition, using the same main gun barrel and a guided weapons system and ballistic computer facilties to ensure accurate firing of both conventional ammunition and guided missiles.

"The tank has advanced protection system to protect crew and equipment from chemical, biological and radioactive (nuclear) attack," an official release said. It is equipped with 125 mm smooth bore gun, 12.7 mm anti-aircraft machine gun and 7.62 mm co-axial machine gun supported with high accuracy sighting systems, and automatic loader for higher firing rate, it said.

Raju said the induction of the tanks was an "important milestone" for the Indian army and a step towards attaining self-sufficiency in its preparedness. "The overall objective is to ensure self-sufficiency in defense preparedness to the maximum possible (extent). The Defence Research and Development Organiusation and the Ordnance Factories Board are working in this regard," Raju said. However, he said that the idea was "not to be completely indigenous as we want to integrate into the system the best what is internationally available." To a query on threat perception emanating from sea post Mumbai-attacks, Raju said, "we are adequately prepared to meet any threat perception."

Image: The Indian Army's Bheeshma T-90 S/SK tank is displayed during the Army Day parade in New Delhi.

Photograph: B Mathur/Reuters