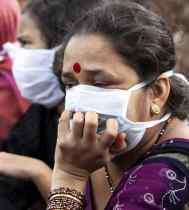 With one person each succumbing to suspected swine flu in Delhi, Chandigarh and Jalna in Maharashtra, the nationwide toll due to the virus has climbed to 66, even as 131 fresh cases of infection were reported from various states.
A 48-year-old man, a resident of Panchsheel Park in Delhi, was admitted to RML Hospital on August 20 with renal failure, fever and breathlessness, according to Hospital Medical Superintendent N K Chaturvedi. He died on Saturday evening following acute respiratory distress syndrome and pneumonia, Chaturvedi said, adding that his swab test report was awaited.
Anil Sheshrao Chavan, 26, also died of swine flu on Saturday at the Mission Hospital in Jalna in Maharashtra's Marathwada region, Health Officer B L Survase said.
A 40-year-old woman of Haryana's Kurukshetra district died on Saturday of suspected swine flu at a private hospital in Panchkula. Sheela's swab has been sent to the National Institute of Communicable Diseases for further tests, a senior Haryana Health Department official said. Maharashtra now accounts for 35 flu deaths, the highest in the country, followed by Karnataka, with 12 casualties.
Five people have died in Gujarat, three each in Tamil Nadu, Chhattisgarh and Delhi and one each in Kerala, Rajasthan, Uttarakhand, Goa and Haryana.
Meanwhile, a total of 131 fresh cases of swine flu were reported from across the country on Saturday, Health Ministry sources said in Delhi. The new cases included 44 in Delhi, 21 in Karnataka, 20 in Tamil Nadu, 17 in Chennai, 3 in Coimbatore, 23 in Maharashtra, one in Pune and 3 in Nagpur.
Out of the total cases reported, six in Delhi and two in Kerala are cases with recent travel history to affected countries. Nearly 14,187 people have been tested so far, out of which 2,669 have turned out to be positive for swine flu. As many as 834 out of the 14,187 persons have been identified through entry screening, 1,911 through contact tracing and the rest had reported on their own.