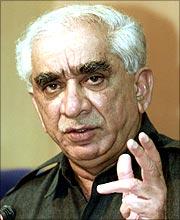 Sticking to his contention in his new book that Mohammad Ali Jinnah was a 'great man' who has been 'demonised' in India, Jaswant Singh has said his expulsion from the Bharatiya Janata Party showed that the party was 'narrow-minded'.
The expelled Bharatiya Janata Party leader said the party did not distinguish between Jinnah's personal attributes as a human being and his politics while taking a decision to sack him from the party for writing the book 'Jinnah: India, Partition, Independence'.
"I didn't think the party is so narrow-minded...so nervous about Jinnah and Patel, to get so riled at what I have written. I have a feeling, which I voiced also, that perhaps my former colleagues had not really read the book when they passed the sentence," he said during an interview with a television channel.
When asked whether he denigrated India's first Home Minister Vallabhbhai Patel in his book, Singh said, "I have simply pointed out facts of history. I haven't denigrated any icon."
The former BJP leader said he would have felt better if the party had informed him in person. "I wish they had not used the word expel. They had better choice of phrases. It hurt me when no one personally came and conveyed the decision. Even (L K) Advani has not called me," Singh said.
Singh also said that L K Advani's aide Sudhendra Kulkarni was 'persuaded to resign'. "...he (Kulkarni) has been persuaded to resign," Singh said when asked about Kulkarni's decision to sever links with the BJP.
Singh on Sunday met former prime minister Atal Bihari Vajpayee at the latter's residence in New Delhi. Singh, who was a Cabinet minister under Vajpayee's government, drove to the ailing BJP patriarch's Krishna Menon marg residence today afternoon.
"I came here to wish Vajpayeeji on the occasion of Ganseh Chaturthi," Singh told reporters after the meeting.
This is Singh's first meeting with a senior BJP leader after he was expelled from the party earlier this week for praising Jinnah.
Singh had on Saturday met his former Cabinet colleague and Janata Dal - United leader George Fernandes.
Jaswant Singh has been having an uneasy relationship with the party leadership ever since BJP's debacle in the Lok Sabha elections, on which he had circulated a note. demanding thorough discussion.