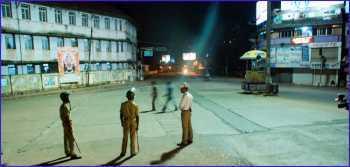 Mangalore, Karnataka's coastal town, was shut down once again following a seventh incident of stabbing.
Mangalore has witnessed seventh such incident in the past four days. Though the district administration is clueless as to why these incidents take place with alarming regularity, intelligence reports suggest the incidents have a communal overture especially in the wake of Ganesh Chathurthi and Ramzaan coming up.
Police said the town will remain shut after 8pm. All shops have been ordered to be closed after 8 PM on Friday and Saturday and section 144 is in place.
Image: A deserted road in Mangalore.