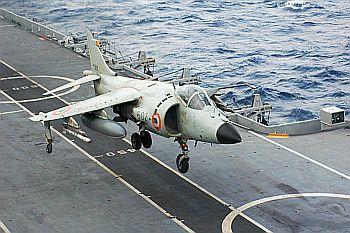 An Indian Naval fighter aircraft crashed off the Goa coast on Friday, killing the pilot.
"The Indian naval 'Sea Harrier' aircraft, which was on a routine exercise mission, crashed at about 1157 hours," a naval spokesman said.
The single-seater aircraft crashed in the Arabian sea 15 miles away from the shore.
"Lieutenant Commander Saurav Saxena, the pilot of the aircraft lost his life in the incident," the spokesman added.

Image: A file photo of a Sea Harrier fighter aircraft.