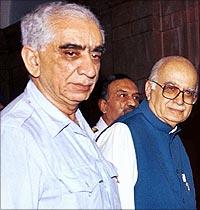 Describing expulsion of Jaswant Singh as a "painful but necessary" decision, senior Bharatiya Janata Party leader L K Advani on Friday answered his criticism on Sardar Vallabhai Patel saying the first Home Minister had banned the Rashtriya Swayamsevak Sangh at Jawaharlal Nehru's behest.
"It is mentally painful to expel somebody who has been with you for the past 30 years but what he wrote was against the basic ideology of the party," he said in his valedictory address at the concluding day of the three-day 'Chintan Baitak' in Shimla.
In his first comments on the party's decision taken on Monday, he told top BJP leaders attending the conclave that he felt that the expulsion of the Darjeeling Member of Parliament as "painful but a necessary" action.
Referring to Singh's statement that Patel had banned RSS and how was he core to BJP's ideology, Advani said that it was at Nehru's behest that Patel banned RSS.
"One month later, Patel wrote a letter to Nehru saying that there is not an iota of evidence against RSS. Jaswant is saying only half of what had happened and not the other half," Advani was quoted as saying by Sushma Swaraj.
Advani also said that Patel's task of unifying more 700 odd princely states was a "super human effort and a specatular achievement."
"It was not possible by an ordinary person. Jaswant Singh tried to denigrate Patel," he added.
Image: Former Union ministers Jaswant Singh and LK Advani
Photograph: Reuters
© Copyright 2023 PTI. All rights reserved. Republication or redistribution of PTI content, including by framing or similar means, is expressly prohibited without the prior written consent.