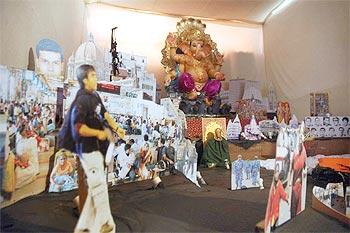 As Mumbai gears up to welcome its beloved Lord Ganesha once again, the Balgopal Sarvajanik Sevamandal at Sewree has decided to adopt an unusual theme for this year's Ganeshotsav. The Sarvajanik Sevamandal has used the theme of the terror attacks, which rocked Mumbai in November last year, to decorate its pandal.
Replicas of Hotel Taj, Hotel Trident, photographs of the slain top cops of Mumbai and the slain personnel of the National Security Guard can be seen inside the pandal.
And Ajmal Amir Kasab, the prime accused in the terror attack case, also finds a place next to Lord Ganesha.
Photograph: Sahil Salvi