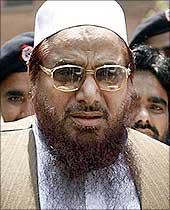 Notwithstanding the dossiers of information handed over by India, Pakistan's Inter Services Intelligence believes that there is nothing to implicate Hafiz Mohammed Saeed, a key accused in the Mumbai terror attack case, a media report said in Islamabad on Wednesday, quoting an ISI official.
Jamaat-ud-Dawah chief Saeed, who was also the founder of terror outfit Lashkar-e-Tayiba, was let off in July by a Pakistani court, which said there was no evidence to link him to the 26/11 carnage.
"We could not find anything to implicate Hafiz Saeed as such," the unnamed ISI official was quoted as saying by the News Daily.
The ISI official said he had studied the first dossier provided by India on the Mumbai terror attacks, which killed nearly 180 people, and found nothing that linked JuD
chief Saeed to the assault.
The official confirmed that, according to the ISI's probe, the attacks were perpetrated by the Lashker-e-Tayiba "which has been active in the occupied Kashmir".
,
The official claimed that the LeT had 'broken off' from the JuD long ago and had been "operating independently ever since".
The US too has appreciated the Pakistani armed forces' fight against militants, which had resulted in the 'uprooting of terror nests and training grounds', he added.