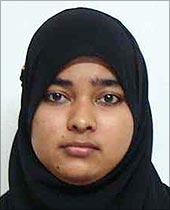 Ayesha Asmin, a first year degree student from SVS Government College in Bantwal, near Mangalore in Karnataka, has claimed that the college authorities warned her against wearing a headscarf to college.
Ayesha has now lodged a complaint with Deputy Commissioner of Police Ponnuraj against the alleged injustice.
Speaking to the media after lodging her complaint, she said that the treatment meted out to her was unfair. "If those aspiring to become nuns can wear a veil while attending college, why should my case be any different," she said.
This incident has now snowballed into a major controversy. While several students have supported the college's decision, the Students Islamic Organisation has raised its voice against it. The organisation has decided to stage a protest against the incident from Thursday.  
"We will seek the support of the Gulf Islamic Community if required, but injustice cannot be meted out to a student from the minority community," said the organisation.
Ayesha, a resident of Bantwal, alleged that college principal Sitaram Maiyya had warned her against wearing the headscarf and asked her to choose between her studies or her religion.
Ayesha added that she had not been able to attend college for a few weeks due to this incident and her studies have suffered a lot.
Ayesha, who studied at the Islamic Women's School earlier, used to wear a burkha to school. "When I joined SVS College, I was told by my friends that I should wear a salwar kameez and due to religious purposes, I could cover my head with a scarf," she told rediff.com.
Ayesha claims that the situation turned ugly when one of the student leaders in the college came up to her and warned her against wearing the headscarf.
"At first, I ignored his threat. But the situation did not improve and the students on the campus began to hurl verbal abuses at me," she recalls.
"One day, I was summoned to the principal's office, where I was told that I had to follow the college rules. My father was summoned too and we were not even given a chance to express our views. When I had sought admission to this college, we were not told about any such rule. Had I known that my headscarf would become an issue, I would have sought admission elsewhere," she says.
Professor K V Kodandaramaiah, the state's Collegiate Education Director, has decided to conduct an inquiry into this incident.
The college management had claimed on Tuesday that the same rules apply to all the students and refuted all allegations of discrimination. However, at a press conference held on Wednesday, Maiyya claimed that the matter was being blown out of proportion. He also insisted that he had never warned Ayesha against wearing the headscarf.
Vice Chancellor of Mangalore University K M Kaverappa has now sought a detailed report about the incident from the college authorities.
Meanwhile, a complaint against the college, alleging discriminatory behaviour against Ayesha, has also been lodged with the Minorities Commission in Mangalore. The commission will study the complaint in detail and file a report about it.
State Chief Secretary Sudhakar Rao has already discussed the matter with Director General of Police Ajai Kumar Singh. He has directed the DGP to act upon the issue after the relevant report is filed by the commission.