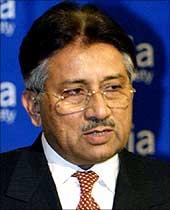 A Pakistani court has asked the Lahore police to explain why they refused to register a criminal case against former president Pervez Musharraf for 'illegally' ordering a crackdown on judges during the emergency in 2007, more than a week after the ex-military ruler was booked by the Islamabad police on same charges.
The additional district and sessions judge on Tuesday issued a notice to the chief of Islampura police station to explain by September 2 why he had not registered a case against Musharraf on the basis of a complaint from lawyer Syed Azhar Ali Shah.
The court issued the notice after a petition was filed by Shah, who asked the judge to direct the police to register a criminal case against Musharraf.
In his petition, Shah claimed Musharraf had issued an illegal order during the emergency for a crackdown on judges and lawyers across the country. Law enforcing agencies trespassed into courts and the homes of judges and forcibly arrested and baton-charged lawyers, he said.
Musharraf also illegally detained the judges, including Supreme Court Chief Justice Iftikhar Chaudhry, and several lawyers sustained fatal injuries, Shah charged. Thus, action should be taken against Musharraf under the Pakistan Penal Code, he said.
Shah said the chief of Islampura police station had flatly refused to register a case against Musharraf.
The police in Islamabad had booked Musharraf on August 11 for 'illegally' detaining over 60 judges during the emergency. The case was registered on the orders of a local court.
Pakistan's Supreme Court recently declared that the emergency imposed by Musharraf was unconstitutional and illegal, raising the possibility of his trial on charges of treason.
The former military ruler, who resigned as president a year ago, is currently living in London.