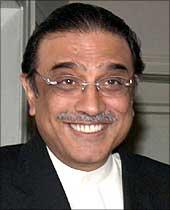 Pakistan President Asif Ali Zardari is not interested in dragging former president Pervez Musharraf to the court of law, but rather favours reconciliation with the former general. Zardari said the Pakistan People's Party favours reconciliation with Musharraf, and that the fate of the former army chief would be decided by the parliament.
"The thirst for revenge against the former president should be quenched by reconciliation and the Pakistan People's Party government had not ordered the filing of a case against Musharraf, in line with Benazir Bhutto's philosophy of reconciliation," The Daily Times quoted Zardari as saying.
Zardari rebuffed the notion of being a 'power monger', saying he had declined several offers from the previous regime of becoming the country's prime minister. He said he wished to further strengthen relations with Pakistan Muslim League - Nawaz chief Nawaz Sharif, and added that all political parties must shun their differences and adopt the course of reconciliation.
He said the PPP was committed to the agenda of reconciliation. "Whatever the parliament does or says, the government will follow it," Zardari said.
Expressing disappointment over the non-implementation of the Charter of Democracy in letter and spirit, Zardari said the PPP government is committed to implementing the accord as soon as possible.
Supporting Prime Minister Yousuf Raza Gilani, Zardari said the PPP will always stand behind the prime minister. 
"Gilani is a very strong prime minister and the party stands behind him," he said.
© Copyright 2023 PTI. All rights reserved. Republication or redistribution of PTI content, including by framing or similar means, is expressly prohibited without the prior written consent.