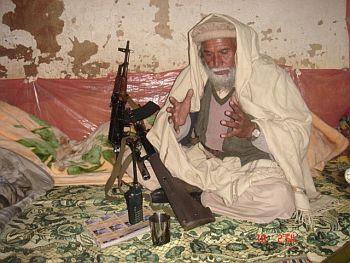 Since being ousted of the main towns of the Swat valley during the recent military operation, Maulana Fazlullah-led Taliban are making preparation for new offensive during the month of Ramzan. According to Taliban, the holy warriors always achieved high targets during this month, so they would go all out to retake the valley of Swat. 
Pakistani government claims that during the three months military operations the Taliban are totally defeated but in real their setup is still intact, as so far no high profile Taliban leaders have been arrested or killed. "No one could defeat Taliban; under a strategy our fighters went underground but after a period of silence now we are back. During the month of Ramzan Taliban would intensify their attacks and the time is not far away that they would gain the control of the whole valley," said Muslim Khan, Swati Taliban spokesperson while talking to rediff.com via telephone from an undisclosed location.
After remaining for some three months at refugees' camps, the Internally Displaced Peoples of Swat have just returned to their homes. They were very happy on their return finding Taliban-free Mingora City; when they were fleeing the area during military operation the militants were freely roaming around the streets of the city.
Hardly had they celebrated Independence Day that a suicide bomber rammed his explosives-laden car into a checkpoint in Khawaza Khela area of Swat valley killing five people; the incident has spread a terror amongst the locals, thinking Taliban are still there.
Talking about the suicide attack Muslim khan said, "Saturday (August 15) attack was just the beginning of new offensive conveying a message to the world that Taliban are not defeated, they are in a good position who can strike anytime."
"During the month of Ramzan the attacks would be intensified, Maulana Fazlullah has asked the fighters to make sure the safety of civilians especially during 'Fidayee'(suicide attacks), as they are already suffered during military assault. We have a large number of suicide bombers and now it is time to use them," Khan added.
Talking about the killing of Taliban in the area Muslim Khan said, "During the military assault a very small number of our fighters have been killed while those who were showed to the media were the poor civilians --- not the militants. We ask the government to bring in front of the media if any of our leading commanders have been arrested or killed; all these are just false claims."
Before the start of the military operation in Swat everyone pretended to be an aid of Taliban or their sympathiser but such people disappeared suddenly.
"When we were in power everyone joined us happily but as the military operation was kicked off they slipped away. The operation provided us with an opportunity to differentiate between the pure mujahideed and hypocrites, today we are comparatively less in number but having pure fighters, which has made Taliban invincible," Khan added.
Muslim Khan also said, "Apart from Swat our men have targeted government installations at Buner district and they are going well. The position of Taliban at Maidan area in Lower Dir is very strong and are retaliating the forces. At Malakand Agency during checking of vehicles at Palai area we have arrested some police men that clearly show our strong position."  
To mark the Independence Day, music was played out over loudspeakers, singers performed at different functions in Mingora city; before the operation no one could imagine such activities there due to the threat of Taliban.
"The people who participated in such vulgar activities would not be spared, Swati people don't forget that Taliban would come soon to check your 'moral health," warned Khan.
Talking about the aim and target of Taliban, Muslim Khan said, "It is not necessary that Taliban would take control of Peshawar or Islamabad in near future, but it is saying of the Prophet Muhammad that jihad would continue until doomsday, so we are playing our part. Of course one day the Muslim would be the conquerors, so if we did not see the occasion our coming generations would see it."
Image: Swati Taliban spokesperson Muslim Khan