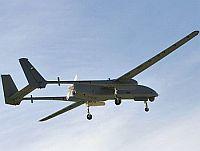 Pakistan has once again requested the United States to provide it with drone technology, so that it can carry out  operations against the Taliban and other extremist groups in the lawless tribal region along the Afghan border.
In a meeting with the US Special Envoy for Pakistan and Afghanistan Richard Holbrooke, Pakistan Prime Minister Yousuf Raza Gilani said Pakistanis were concerned about the US drone attacks inside their country, and that the missile hits were proving counterproductive in the war on terror.
"Drone attacks remain a matter of public concern in Pakistan. The US should provide drone technology to Pakistan, enabling its armed forces to take action against terrorists," Gilani said.
Gilaini told Holbrooke that the strikes by unmanned predators are promoting 'anti-Americanism' in Pakistan.
Earlier, during an informal interaction with mediapersons in Islamabad, Holbrooke said Pakistan's political scenario was fast changing, and expressed the hope that President Zardari will complete his term.
"I am obviously hopeful that he (Zardari) will complete his role as democratically-elected president,' Holbrooke said, adding, "Democracy is critically important in Pakistan. Let there be no mistake about it, we support the democratic process."
Underlining the need to focus more on Pakistan's energy crisis, Holbrooke said the problem, if remained unresolved for long, could dent the country's economy and create more trouble.
Holbrooke acknowledged the problem was too deep-rooted to be solved overnight.
"The crisis has been building up for 25 years and it's quite obvious that it cannot be solved in a few weeks," the Dawn quoted Holbrooke, as saying.
He said the United States wanted to send a message to Pakistanis that it is concerned about their genuine problems and was doing all it could to help them.
Image: A spy drone    Photograph: Reuters