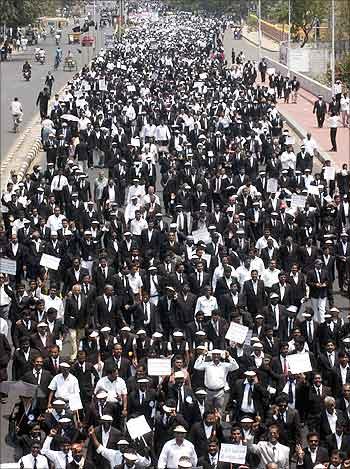 The Madras High Court on Monday issued a notice to the state government on a batch of petitions filed by advocates on the February 19 clashes between police and lawyers in the court premises, which left many persons, including advocates and policemen, injured.
Following the incident, a three-member bench comprising Justices S J Mukhopadhaya, V Dhanapalan and K Chandru was constituted, which had suggested suspension of then Additional Commissioner of Police A K Viswanathan and then Joint Commissioner, North Zone, M Ramasubramani.
The officers had moved the Supreme Court, which directed them to approach the high court. But they are yet to do so.
When the matter came up for hearing today before a division bench, comprising Justices F M Ibrahim Kalifulla and R Banumathi, Madras High Court Advocates' Association president R C Paul Kanagaraj and representatives of various advocates' associations submitted that the government has not yet suspended the police officers, as per the direction of the court.
The bench issued notices to the home secretary, the director general of police, city police commissioner, Viswanathan and Ramasubramani, and posted the matter for August 27 for further hearing.
Image: Lawyers attend a rally to celebrate the suspension of two senior police officials for their role in the February 19 clashes with lawyers in the Madras High Court complex on March 19, 2009 | Photograph: Babu/Reuters