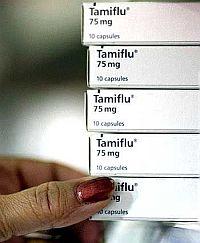 The H1N1 virus is all that we get to talk or read about these days. While the government continues to move pillar and post to ensure that this problem is brought under control, it also faces another problem -- the shortage of swine flu drug Tamiflu -- thanks to which the problem has risen to such an extent.
However, now there is a reason to smile. India can produce Tamiflu locally, thanks to a discovery made by the University of Agricultural Science in Bengaluru.
Dr Uma Shanker, Professor at the Department of Crop Physiology and School of Ecology and Conservation in the UAS, recently led a team which discovered certain plants in the Western Ghats containing shikimic acid -- the precursor for making Tamiflu.
Dr Uma Shanker explained to rediff.com about how equipped India would be to fight the H1N1 virus if this discovery is put to right use.
"Following our discovery of certain plants in the Western Ghats in Karnataka, we conducted a research and found that the plants discovered by us contained shikimic acid through which the Tamiflu can be produced. The plants discovered by us are the source of the plant-based shikimic acid," Dr Shankar said.
Currently, the world is dependant upon China which has the sole source of the plant which is a precursor for making Tamiflu, drawn from a plant-seed called ''Illcium verum'' popularly known as ''star anise."
Dr Shanker added that Tamiflu is the only drug that is available currently which has proven to be effective to fight the H1N1 virus.
"Since India is facing a shortage of this drug, it could well put into use the discovery made by the UAS and solve the problem of shortage to a large extent," he said.
He further noted that if put to right use, then India could be self-sufficient in terms of Tamiflu.
"It is essential that we put to use this discovery since the demand for the drug is increasing, China will surely find it difficult to keep up with the supply of raw material and there could be a severe shortage," Dr Shankar said.
Regarding the possibility of exporting this drug to other countries, Dr Shanker said it is too early to tell. "The discovery has just been made and we need to tap the resources available and take care of our own needs first. However, we do not rule out the possibility of cultivating more of these plants across the country, which would not only take complete care of our needs but would also open the gates to export," Dr Shankar added.
However, the government has not yet reacted to this discovery.
"But there are a lot of private firms that have shown interest in this discovery and could take this forward which in turn would benefit the people as a whole. The economic feasibility would be worked out very soon," he said.
"The discovery has been made by us and we are ready to provide any data or assistance in this regard," Dr Shankar added.
Photograph: Tim Wimborne/Reuters